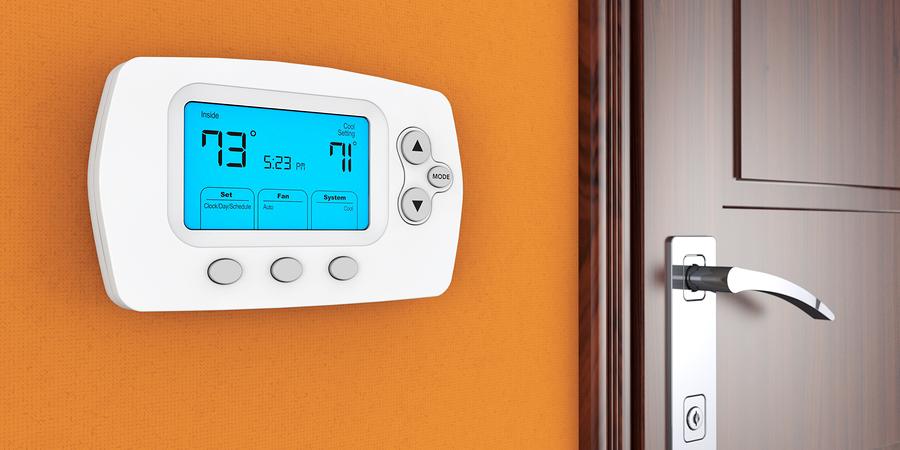 Consistent Comfort You Control
Home comfort is at your fingertips with a new thermostat, helping to ensure that your heating and air conditioning system is operating at peak efficiency. Whether you prefer smartphone accessible, programmable, or non-programmable thermostats, Pippin Brothers provides you with the most reliable technology available.
All the thermostats we install are easy to use and maximize the performance of your heating and air conditioning system, for dependable and consistent temperature control in your greater Lawton, Oklahoma area home. Your Pippin home comfort expert will be able to help you choose the right thermostat for your system and your goals, and can also help you find the best place for a thermostat.
Our Thermostat and Zoning Services
Thermostat replacement – Digital thermostats and programmable thermostats, offering features like remote access, internet/wifi and smartphone connectivity, and smart home features.

Zoning system installation - Control the temperature rooms or areas of your home independent of other rooms or areas to give you the temperature you want where and when you want it.

Zoning system replacement - Upgrade to the latest technology for ease of use and smartphone control.
Common Issues With Thermostats
Oftentimes, what may look like an issue with your heating and cooling system is actually just a problem with your thermostat. Since this small device is the control center for your furnace, your air conditioner, and in some cases, a mini split system, there is ample opportunity for your thermostat to either reduce the efficiency and comfort of your home, or greatly improve it! Some of the common issues Oklahomans turn to us for when it  comes to their thermostats are:
Thermostats that are turned off but still blowing air

The thermostat works but no AC

A thermostat that won't turn off the AC

Thermostat temperatures that don't match the temperature of the room

Large temperature swings between system cycles

Uneven temperatures—"my house won't stay comfortable"
Programmable Thermostats
Did you know you can save up to 33% on annual heating and cooling costs with a new programmable thermostat, while also customizing your home comfort? This simple home upgrade will help lower your utility bills for years to come, making it a wise home investment. It can also extend the life of your heating and cooling system by allowing it to work less.
Programmable thermostats have such impressive results because you don't have to remember to adjust the temperature in your home before leaving each day or at bedtime. They can boost home comfort by allowing you to customize home temperatures when you are sleeping. You simply program desired home temperatures and rest assured that your home will stay comfortable while saving energy.
Our programmable thermostats feature:
Streamlined design

User-friendly menu 

Wi-fi programmability/smartphone accessible for control from anywhere
Non-Programmable Thermostats
Non-programmable thermostats are great for regulating room temperature to one desired set point. They are manufactured with both digital and non-digital displays.
Non-programmable thermostats are:
Easy to read and use

Attractive and accurate

Ideal for precise temperature control

Consistent and reliable
The Pippin Brothers team can help you choose the thermostat that best fits your home's heating and cooling system and your lifestyle.
Residential Zoning Systems for Maximum Comfort
Do you have rooms in your home that are cooler or warmer than others, requiring you to boost your heating or cooling system to compensate? Do you have rooms in your home that you wish were different temperatures at different times, depending on their use? A standard home here in the Lawton and Fort Sill area usually contains one thermostat that controls the temperature in the entire home. However, if you have ever had a debate in your home about which temperature is the most comfortable, it becomes apparent that not every family member has the same definition of the "ideal temperature"!
Zoning will reduce your utility bills by more wisely heating and cooling your home. Choosing to zone your home means that you will not heat or cool that extra bedroom nobody uses and allows you to turn down the heating or cooling system in the living room, dining room, and kitchen at night, while independently controlling the temperatures of your bedrooms. 
By installing a home zoning system, you will have full control over your home's ventilation, comfort, and a large portion of your energy use. We can even help calculate your energy savings from zoning your home!
REACH OUT TO OUR TEAM TO LEARN MORE ABOUT HOME ZONING
NOTE: Prescription without diagnosis is malpractice. A small investment in measuring and testing may help you prevent or avoid untimely and costly repairs or potential catastrophic failure without guessing. "An ounce of prevention is worth a pound of cure." – Benjamin Franklin
Take control of your home comfort with the versatility of a smart thermostat and home zoning! Schedule an appointment with Pippin Brothers Home Services at 580-215-1390 or get in touch here.
What our customers are saying:
Take advantage of these offers