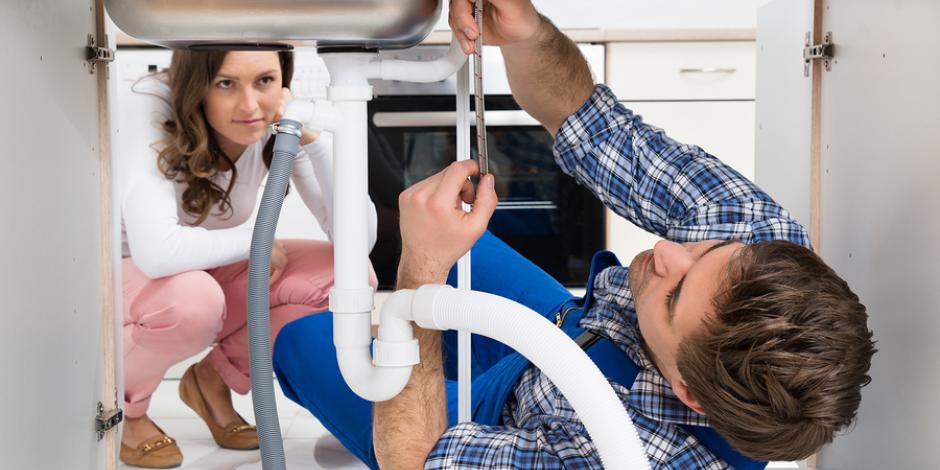 All too often, homeowners will attempt to tackle an at home plumbing task, but in the end need to call for service anyway. And so the familiar scenario begs the question: how do you know when to call a plumber?
Drains that won't unclog. When you find commercial drain cleaners are no longer effective in clearing a kitchen sink clogged with grease or a bathroom drain full of hair, it's a good idea to call a plumber. Professional plumbers are certified with the knowledge, and equipped with the right tools for proper drain cleaning without damaging fixtures and piping. It is also a good idea to take preventative measures like having a video drain inspection to identify potential problems before they start.
Low water pressure. Many factors can cause low water pressure in your home including: low pressure or flow from the city or well supply, obstructions in the line, poor supply-line design, partially or fully closed shutoff valves, or blocked aerator screens. Contacting a qualified plumber to properly diagnose and fix the problem at the source will help you save you time, money and unnecessary frustration.
No hot water. Assuming your water heater is not leaking, it can be difficult to determine why you have no hot water. Faulty mechanics with the water heater are often to blame. It's best to hire a professional to inspect and repair the unit.
Replacing your water heater. Eventually the time will come when you need to replace your water heater. It is always recommended you hire a professional for this task. Replacing a water heater can be daunting and sometimes dangerous. Improper installation can result in anything from gas or carbon monoxide leaks to faulty performance. Licensed plumbers know the appropriate methods and guidelines to follow to assure a safe and reliable installation.
Sewer line problems. Roots, deterioration, breaks, rust and more can lead to disruptions in your sewer line. Qualified plumbers, like Pippin Brothers, can identify the source of the problem, clear your drain and eliminate the sewer problems – without leaving your yard a mess.
Work that involves your main waterline. Anytime work that involves your main waterline is called for, it's best to leave it to a professional. Special tools are required to turn water off at the street.
Signs of water damage or mold. It is likely there is an existing leak somewhere in your plumbing system. A professional plumber will know how to replace and fix the leak correctly, the first time – without causing more damage to your walls or ceilings.
Knowing when to contact a plumber - an established, reputable, licensed, bonded and insured plumber - will ensure timely response, quality workmanship, a fair price, no headaches or heartache, and a problem fixed right the first time. Plus, you get a guarantee on all parts and labor. This helps in avoiding unforeseen problems in the future or potential household damage – all of which saves you time and money over the long run.
Contact Pippin Brothers to schedule a repair online today or be proactive by contacting us for a full point plumbing inspection.