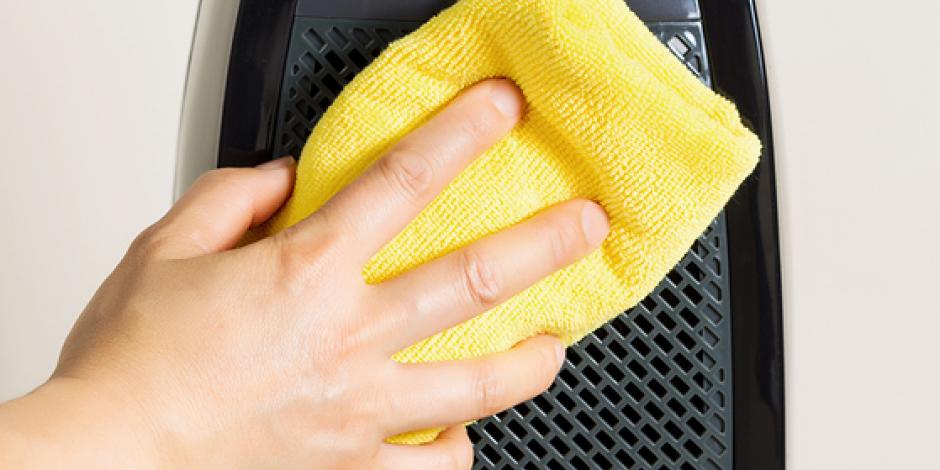 Every spring we begin our traditional spring-cleaning regimen and work to rid our homes of dust and clutter. Despite our best efforts, improving our indoor air quality is a task often left unaddressed. This season, spring isn't the only thing in the air. Allergens like dust, pollen, pet dander, mold and other airborne particulates have been wreaking havoc on your indoor air quality all winter long. Now is a great time to clear the air. Learn how by reading these simple tips below.
Prevent dust from entering your home.
More than 60% of dust inside your home originates outdoors. Simple ways to keep dust outside include taking off your shoes before entering your house or using a doormat outside, and an entry rug inside. These minimal steps will stop any additional dust from being tracked into your home. It is also a good idea to vacuum or shake out the rugs at least once a week.
When you're cleaning, be certain to use products and tools designed to trap dust - not just push it around. Using a vacuum with a HEPA filter or cleaning with microfiber or electrostatically charged cloths are good ways to get started.
Clean and seal your ductwork, improve indoor ventilation.
When it comes to dust and other airborne particulates, these preventative measures can only get you so far. The ductwork in your home is the primary catalyst by which air is distributed throughout your home. Sometimes, allergens enter your home from under your house and attic and sometimes weakness in your ductwork can lead to cracks and leaks, which allow unfiltered, unpurified air from outside, in. A good solution to this problem is to ensure your air ducts are properly repaired and sealed. Your Pippin Brothers technician is trained to inspect and repair your air ducts and prevent contaminants and debris from entering while at the same time, improving the efficiency of the ductwork and your heating and cooling system.
It is also a good idea to make sure you regularly change or clean your HVAC system air filter at least every 30 days. Clean air filters help keep particulates out of the air and also protect the equipment. What's more over time, dust, molds and other particulates can build up inside your ductwork causing unhealthy air to be recirculated throughout the house. Regular duct cleaning will keep the air inside your home cleaner and healthier.
Another small but helpful step includes cleaning the dirt and other visible matter from bathroom vents. With the power off, simply remove the vent cover and scrub it clean in warm soapy water. A toothbrush or slightly damp rag can be used to wipe the blades of the fan clean, too.
Be intentional about purifying your air.
It's estimated that most people spend nearly 90% of their time indoors, so wouldn't it be a good idea to help guarantee the air you breathe is clean? Pippin Brothers provides several air quality products including air cleaners, air purifiers and UV germicidal lamps that can help to kill any new airborne bacteria which in turn, assists in reducing respiratory agitators and the risk of unwanted illness.
Schedule an air quality analysis.
If for whatever reason your concerned about the quality of the air inside your home, scheduling an air quality analysis can help. A full analysis of your indoor air can help you determine its quality and if there is anything you should be concerned about – which can help you determine the best methods of treatment.
As your cleaning this spring, don't forget to clear the air – stop dust before it enters, improve your indoor ventilation and start being proactive. Follow these simple tips, and you're on your way to cleaner, healthier air!
For questions or information about any of Pippin Brothers' products and services, contact us online.