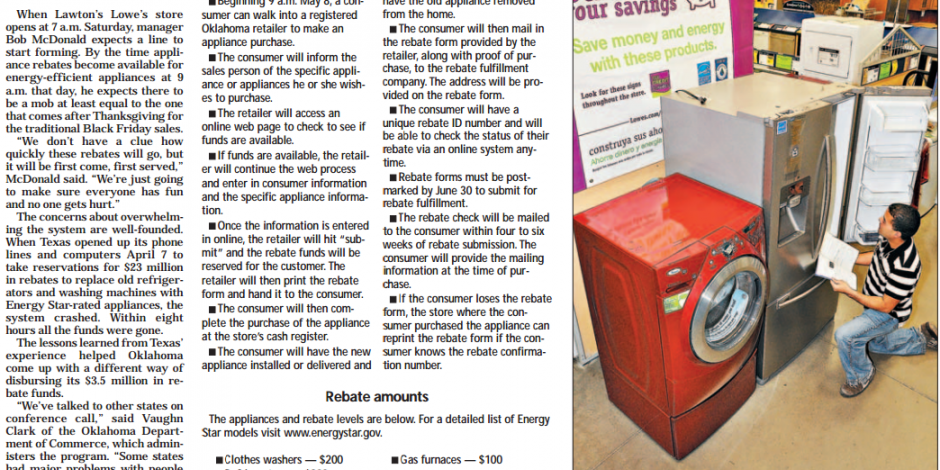 In case you missed it, check out the article highlighting Pippin Brothers. Local paper, The Sunday Constitution wrote an article titled "Retailers ready for energy stimulus" discussing how the rebate program will work:

"A consumer who wants to replace an older model appliance to an Energy Star-rated appliance should show up at an approved retailer Saturday morning, May 8th. At 9 a.m. the retailer will be able to go online to reserve a rebate. After providing some information for the online form, the purchaser will receive a verification form with a number. The customer will have to confirm on the form that the old appliance was hauled away... A rebate check should come back in the mail four to six weeks after the verification form is mailed."

Read this article to find out more about the steps to follow, rebate rates, etc.

Pippin Brothers was highlighted towards the end of the article when referencing the Air Conditioning purchases.

"Shannon Pippin, sales and service manager for Pippin Brothers, said replacing a central AC unit doesn't involve going to a showroom. "Buying an air conditioner isn't like buying a refrigerator," she said. "We need to send someone out there to make sure the customer gets the right solution." If someone wants to take advantage of the rebate on Saturday, Pippin said her company is making appointments to send service personnel to homes where they can suggest the right unit. Once that is done, an office employee will go through the same online process as a retailer to reserve the rebate."

Give us a call if you are interested in this program or other home AC needs (580) 699-5660 or contact us online.
Take Advantage of Special Offers From Pippin Brothers