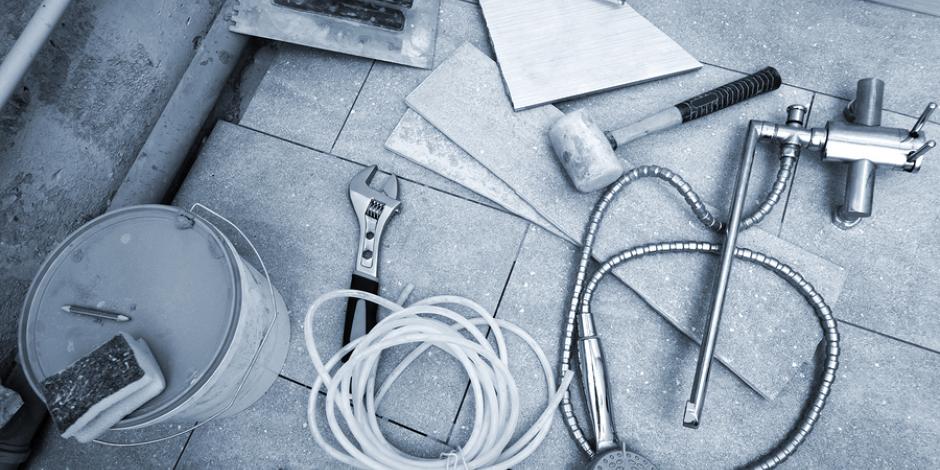 Are you embarrassed when people see your outdated bathroom?
Or maybe you just want to update it to a more modern look. Either way, you're considering a bathroom remodel. But how do you budget for such a project?
Read this post to get a simple rule of thumb for making a budget for your remodeling project.
You'll also find a simple template for how much you'll typically spend on various items within that budget.
How much should you spend on a master bathroom remodel?
If you're considering a bathroom remodel, you should scale how much you'll spend based on your house's value.
According to Consumer Reports, a simple rule of thumb for your remodeling project cost—including materials and installation—should be 5-10% of your home's value.
So how much will that typically be?
According to the Remodeling Magazine's 2011-2012 Cost vs. Value Report, the average bathroom remodel in the West South Central United States (which includes Lawton, Oklahoma) costs about $14,572.
Use this budget breakdown template
So out of your budget of 5-10% of your home's value, what should you expect to spend on each area of the bathroom remodel?
Here's how the National Kitchen & Bath Association (NKBA) breaks down the budget for a typical bathroom remodel:
Labor: 20%
Cabinetry and hardware: 16%
Fixtures: 15 %
Faucets and plumbing: 14%
Countertop: 7%
Floor: 9%
Doors and windows: 4%
Walls and ceiling: 5%
Lighting and ventilation: 5%
Design fees: 4%
Other: 1%
If you apply this breakdown to the home average of $14,572 then you bathroom remodel might look like this:
Labor: $2,914
Cabinetry and hardware: $2,186
Fixtures: $2,186
Faucets and plumbing: $2,040
Countertop: $1,020
Floor: $1,311
Doors and windows: $583
Walls and ceiling: $729
Lighting and ventilation: $729
Design fees: $583
Other: $146
Of course, this is only a sample of how a typical bathroom remodel could go. You don't need to constrain yourself to this template since some areas of your bathroom may need more help than others.
Choose your contractors carefully
As you can see, the largest part of your remodeling will go towards labor. And this can be the trickiest part of putting together your budget.
In the Consumer Reports' article 7 Do's and Don'ts of Bathroom Remodeling, one of big Don'ts is don't skimp on skilled labor.
That's good advice considering that the installation quality can make or break how your remodel will look in the end.
Consumer Report's advice on looking for contractors is:
Meet with at least three contractors, preferably those you find through word of mouth
Make sure the person or company you settle on has an up-to-date license and insurance, including workers' compensation
Scrutinize the contract; it should list every product down to the model number and finish 
Don't automatically go with the lowest bid
If you're considering a bathroom remodel in your Lawton-area home and need help moving plumbing around, then Pippin Brothers can help.
Contact one of our experts online to learn how much it might cost so you can start putting together your budget.