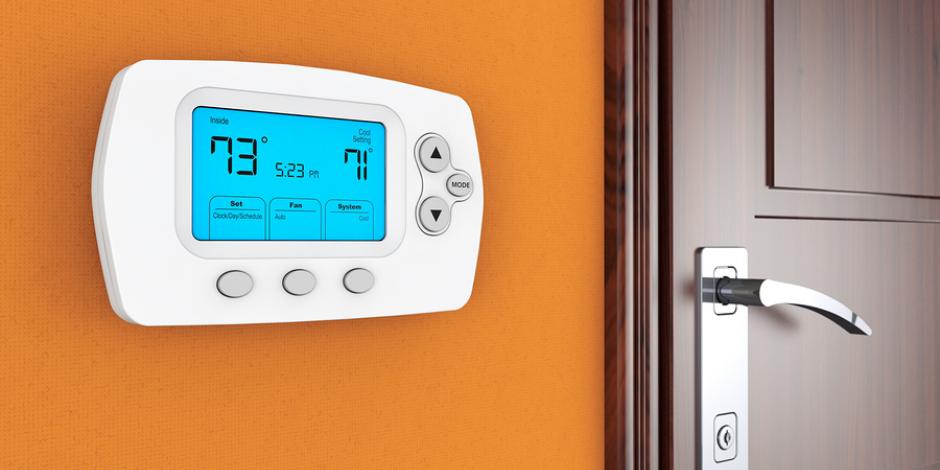 When you're looking for a place to start saving money, reducing your heating and cooling bill is a great place to start.
According to ENERGY STAR, the average household spends $2,200 a year on energy bills. And almost half of that is from heating and cooling your home.
But honestly, you're probably spending too much money heating and cooling your home. If you're awake at home for only 7 hours in the day, why are you paying to heat and cool your home for the other 17 when you're not there or you're asleep?
That's where a programmable thermostat comes in. It helps you efficiently heat and cool your home based on your schedule. Many thermostats
According to ENERGY STAR and Consumer Reports, properly using a programmable thermostat can save you about $180 a year.
In this post, you'll learn the main factors to consider when shopping around for these money-saving devices.
Scheduling Type
Most programmable thermostats have different levels of scheduling flexibility. The 3 main models are the 5+2-day, 5-1-1-day and 7-day.
5+2-day: Gives you 2 schedules you can set: one schedule for the weekdays and a separate schedule for the weekend.
5-1-1-day: Gives you 3 schedules you can set: one for the weekdays, one for Saturday, and another for Sunday.
7-day: Gives you 7 schedules you can set: a separate schedule for every day of the week.
For those who have a typical work week, the 5+2-day model is a good choice.
If you have extra activities you like to do on Sunday, like going church, then the 5-1-1-day model is a better choice.
And for those who want more flexibility or have an atypical work week, the 7-day model is your best bet.
External design
Here are a few physical design features to keep in mind:
Imagine how it will look in your home - You don't want your thermostat to stand out like a sore thumb (unless it has a polished sleek design that you want to show off).
Consider the screen's features - Is it large enough to be easily seen? Is the screen backlit for easy night usage? Does the screen have touch capabilities for easy use?
Look at button size - Button size is especially important if you have elderly or visually impaired loved ones in your home. Tiny buttons can be frustrating for those with poor eyesight. 
Extra Features
It might be surprising, but programmable thermostats can come packed with a variety of extra features that can increase comfort and save you money.
Some of the ones you want to be aware of are:
Vacation feature - Gives you a special schedule you can set when you're on a long vacation.
Air filter alerts - Tells you when your air filter is dirty. Now you'll have one less maintenance task to remember.
Malfunctioning alerts - Tells you when you heating/cooling systems are malfunctioning.
Wi-Fi capabilities - Some models can be used remotely through a computer or mobile device.
Adaptable Intelligent Recovery – Determines how quickly the system needs to come back on to achieve your desired set temperature by the set time.
Warranty & Support
Make sure the programmable thermostat you're getting comes with a manufacturer's warranty, in case it malfunctions. And just like any device you'd program, you'll want a detailed manual that shows you how to set up and operate your programmable thermostat.
Don't want to install it? We've got you covered.
If you're interested in getting a programmable thermostat, we can come and install it for you and show you how to properly use it.
Contact Pippin Brothers online for more information about programmable thermostats and the models we offer in the Lawton, Oklahoma area.