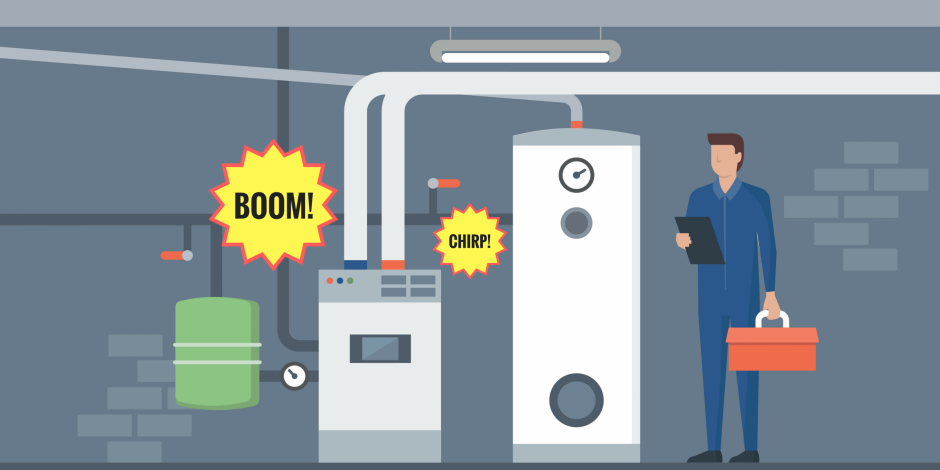 Pippin Brothers Home Services happily services the Greater Lawton, Fort Sill, and Duncan, Oklahoma area. If your house is uncomfortable; wasting energy; has plumbing problems or if you want to avoid breakdowns or verify everything in your home is working as it should, give us call at 580-699-5662.  We've already helped many of your neighbors, and would be honored to help you.
Homeowners in Lawton, OK are all doing their best to keep warm this winter, but some are hearing noises coming out of their furnaces that just don't seem like they should be there at all. While older furnaces may be clunkier than newer models, the fact is that no unit should make excessive amounts of noise, no matter how old it happens to be.
If you've got a noisy furnace, chances are the problem isn't going to go away on its own and that your best bet will be to call in a professional. Has your furnace been overly noisy lately? Here are four sounds it should never make, all of which point to bigger problems.
1. Chirping
There are some sounds associated with furnaces that are commonly reported by owners of homes both new and old — "chirping" is one of the most prominent examples. If you hear bird-like sounds coming out of your furnace, you can be certain that something is wrong, but it may be difficult to determine exactly what the problem actually is.
Chirping can actually mean many different things, including issues such as wheel misalignment, mounting plates that have warped, worn-out bearings and loose motor mounts. The key to identifying the real issue at play is to hire an expert to survey the situation.
2. Clanking
Has your furnace been making excessive clanking sounds every time it clicks on and off? If so, the problem may be due to a loose/broken belt, which can end up hitting other parts of the furnace.
Naturally, this can cause further damage to the unit and will not resolve itself if there is actually a belt problem at play. Clanking sounds shouldn't be ignored and need to be addressed as soon as they're discovered.
3. Clicking
Clicking noises often sound the most benign of all that can come out of a furnace, until they start getting very loud. Loud clicking noises may simply mean that there are loose bolts on the furnace cabinet, but they can also signal issues with the heat exchanger.
If you have a cracked heat exchanger on your hands, for example, the chances that a carbon monoxide leak could occur will be quite high. If you hear this type of sound even once, it's time to call a professional.
4. Booming
Does your furnace go "boom" in the night? If so, you're not alone. This type of noise is typically indicative of ductwork that is expanding.  This could be because the ductwork is improperly sized and cannot supply or return an adequate amount.  Such a condition compromises your comfort and operating costs.
Although, "booms" can sometimes result from dirty furnace burners. While neither of these issues is inherently dangerous, defective gas valves can also lead to boom-like sounds, not to mention ignition problems that can affect the health of the unit.
Furnace Maintenance, Repair & Replacement
The easiest way to make sure you never hear any of these sounds coming out of your furnace is to keep it in top shape with regular maintenance. Without annual service, your furnace can cause issues with comfort, indoor air quality, potentially expensive future repairs and ongoing high monthly heating bills.
If however, you haven't been taking care of your furnace, the team at Pippin Brothers can also repair or replace it so that you can have peace of mind and comfort throughout the remainder of the winter.
If you're looking for a furnace replacement or to schedule furnace maintenance, we're here to help—
contact us
today to learn more.