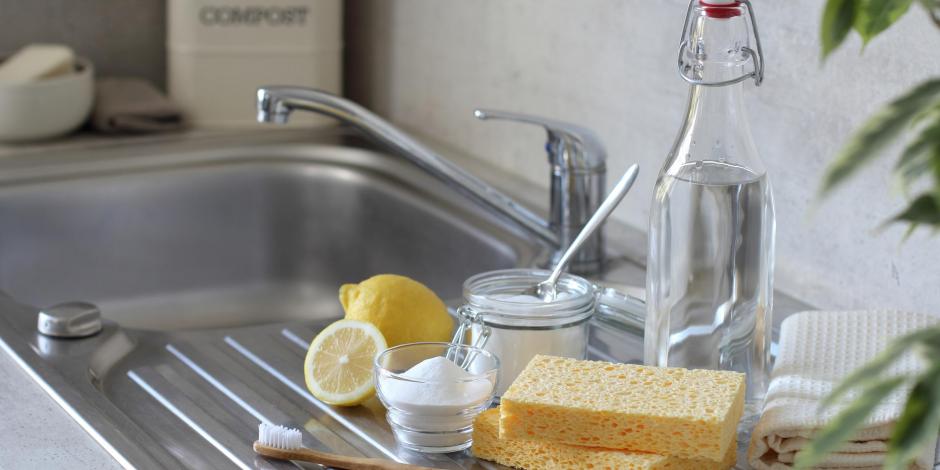 Do you get hit with a terrible smell every time you walk into your kitchen? Unless you've forgotten to take the trash out, there's a good chance it's coming from your garbage disposal. 
Garbage disposals are very efficient and can make doing the dishes a lot easier. But they can also develop nasty smells from rotting food scraps that haven't been ground up and drained properly. 
Thankfully, you don't have to live with the stink. Here are some of the best ways to clean a garbage disposal and remove kitchen smells. 
1. Hot Water and Dish Soap 
Dish soap is a great way to remove odors from your garbage disposal because it can cut through grease. To clean your garbage disposal with dish soap, put your drain stopper in and fill your kitchen sink up with hot, soapy water. Then, remove the stopper and turn on your garbage disposal. The soapy water will clean the garbage disposal as it gets pulled in. 
2. Baking Soda and Vinegar 
Baking soda and vinegar can be used to create a natural cleaning solution that will help break down food particles in your garbage disposal. To clean your garbage disposal with baking soda and vinegar, pour a half cup of baking soda down the drain, followed by one cup of vinegar. (It will bubble up—that means it's working.) Let the mixture sit for ten to fifteen minutes. Then, run your garbage disposal and warm water at the same time for 30 seconds. 
3. Citrus Peels 
Citrus peels can get rid of a smelly garbage disposal temporarily. Simply drop a few lemon or orange peels into your disposal and turn it on. You'll notice a clean, citrusy scent right away. However, this fix will only mask the smell, it won't get rid of it. If you want to cover up a bad smell in a pinch, it's a great option, but you should still take further steps to fully clean your garbage disposal. Make sure not to put TOO many down or it will end up jamming it.
How to Keep Your Garbage Disposal Clean 
The best medicine is always prevention. If you use your garbage disposal properly, you'll be able to stop most garbage disposal smells before they happen. Here are some proper garbage disposal tips:
Only use your garbage disposal for small amounts of food waste—it's not a trash can!

Always run warm water while your garbage disposal is on 

Run your garbage disposal for at least 30 seconds at a time 

Don't forget about plumbing maintenance 
If you're garbage disposal always smells bad no matter what you do to clean it, it's time to call a plumber. Pippin Brothers can take a close look at your kitchen sink, drain line, pipes, and garbage disposal to figure out what's causing the problem. We are an experienced,  local plumbing company that helps homeowners stay safe and comfortable with professional plumbing and drain cleaning services. If you need help with a smelly or broken garbage disposal, or you're dealing with garbage disposal leaks, give us a call. We serve homeowners in Duncan, Lawton, Fort Sill, and many of the surrounding areas. 
Get rid of bad garbage disposal smells. Call 580-699-5662 or contact us to schedule plumbing service.
Are garbage disposal smells taking over your kitchen? 
Pippin Brothers can help.
Take Advantage of Special Offers From Pippin Brothers