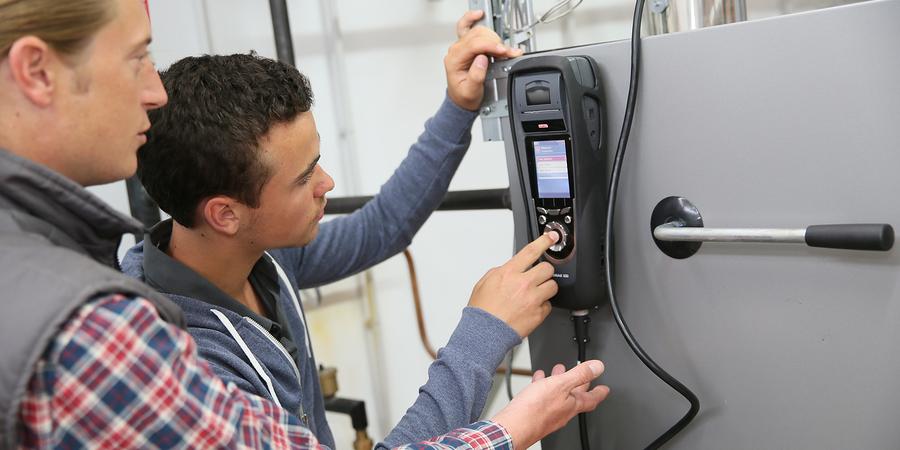 Pippin Brothers proudly offers durable high-efficiency heat pump products, ensuring that your family will enjoy year-round, dependable comfort.  Whether it's heating your home during the coldest winter days, or cooling your family off on the hottest summer nights, we have you covered!  
Heat Pumps and Air Handler
Do you want to find an energy-efficient heating and cooling solution for your Great Plains area home? Mini-split heat pumps provide a great heating and cooling option, and can help you save on your utility bills.
In the winter, Pippin Brother heat pumps draw heat from the air just outside your home and circulate it into your home. In the summer, heat pumps draw heat from the inside of your home and release it into the outdoors.
Problems We Solve With Heat Pump Systems:
Year-round heating and cooling issues

High utility bills from traditional furnace or AC systems

Zoning problems (hot and cold rooms in your home)

Noise from old or oversized equipment
Many of our customers want greater indoor comfort without cumbersome ductwork and mechanical equipment inside the home. Heat pumps are a great option. One system can meet both your heating and cooling needs, with the same unit. These systems use electricity to condition your home, not gas or propane.  
Selecting an Energy-Efficient Heat Pump Model
Pippin Brothers offers state-of-the-art heat pumps, so we can find the best system for your budget and your home. The annual efficiency of an air conditioner or heat pump system is determined by the SEER rating (Seasonal Energy Air Conditioning Unit Efficiency Ratio).
The higher the SEER rating, the more energy efficient the system is, and the lower your energy costs will be. Heat pumps can reduce your cooling costs by as much as 65% and qualify as an Energy Star product with the U.S.Department of Energy.
Exceptional Home Comfort
True zoning and comfort are at your fingertips. Several air handlers can be connected to one single outdoor condensing unit, enabling rooms to be independently conditioned for optimum comfort and energy saving. Heat pumps also provide single-room solutions, making them ideal for room additions and enclosed patios.
Heat pumps don't require ductwork or indoor space for mechanical units like traditional forced air furnaces or central air conditioners, saving space in your home. They are growing in popular in the Lawton, Oklahoma and Wichita Falls, Texas region for new construction and existing homes alike.
Expert System Design and Installation
Pippin Brothers technicians are skilled in all areas of heat pump system design and installation. As experts in the HVAC industry since 1978, our certified and trustworthy technicians treat customers with respect, while providing the highest quality workmanship. We are known from Wichita Falls, Texas to Chickasha, Oklahoma for our honesty and expertise in designing and installing dependable and efficient heat pumps.
Call us today and get started on this high-tech solution for your heating and cooling needs!
FAQ – How does a heat pump transfer hot and cold air throughout the home?
Heat pump systems feature an outdoor heat exchanger and indoor air handling units. Air handlers are usually wall-mounted in various rooms to provide warm and cool air exactly where you need it. 
Can you tell me more about indoor air handlers?
With your current heating and cooling system, your home may feel warmer and more humid than desired because cooled air is not properly circulating. Air handlers circulate conditioned air throughout the home. Pippin Brothers offers a family of air handler products that exceed equipment standards, by providing either single or variable-speed motors.
This significantly saves on your energy bills by boosting the efficiency of your system. The more efficient your air handler is, the less work your outdoor unit has to do to make your home comfortable. Our knowledgeable team will assist you in making the most informed choice for your Oklahoma or Texas home.
In addition to our core services, we provide consultations on the best products for you. Get our tips on safety, conservation and cost cutting included in your service!
Call us today at (OK) 580-699-5660 | (TX) 940-228-1119
State-of-the-art heat pump systems.
We are the local experts, so call us today!
(OK) 580-699-5660 | (TX) 940-228-1119
What our customers are saying:
Take advantage of these seasonal offers